READY TO WORK FOR ALL ACTIVITIES
Single and double van cab, single and double chassis, platform cab, all profiles geared to your activity's needs and constraints. Whatever your Renault Trucks Master model, take advantage of new high-performance and more fuel-efficient twin-turbo engines (from 130 hp to 180 hp), as well as the electric motor option.
Only in our network: The Renault Trucks Master Red EDITION
Discover Renault Trucks' Master Red EDITION, exclusive to Renault Trucks. Designed by professionals for professionals, it comes equipped with many features as standard for even greater comfort, efficiency and safety.
EURO 6 ENGINE
The engines, compliant with the Euro 6 d-temp or Euro VI D standards, are available in a wide number of capacities, all significally reducing polluting emissions. Many driving assistance systems and a robotised gearbox ensure fuel consumption is kept under control. An all-electric version is also available.
A wide range of WLTP or NEDC certified engines available to meet environmental and business constraints.
BI-TURBO ENGINES AVAILABLE ON THE WHOLE RANGE UP TO 400 NM TORQUE
RENAULT TRUCKS MASTER Z.E.: ZERO TAILPIPE EMISSIONS
All-electric version for accessing low emission environments
Charges in 6h
33 kW / h battery and 120 km of autonomy in actual use
Available in van (including minibus conversion), platform cab and chassis cab
OUTSTANDING LOADING CAPACITY AND VOLUME
Van volume from 5 to 17 m3, wide rear and side openings, allowing bulky objects to be loaded easily, one of the best payloads on the market: Renault Trucks Master is the ideal vehicle for meeting the needs of the most demanding activities.
L4 H3 REARWHEEL DRIVE VERSION: with a loading capacity of 17 m3, 4,383 mm of useable length and 2,048 mm of useable height.
READY TO BODY FOR ALL ACTIVITIES
Renault Trucks Master features a modular structure, a removable rear crossmember and specific equipment to facilitate body mounting. Offering one of the most extensive vehicle length ranges on the market, it can meet all activities' needs.
PRE-FITTING AND EQUIPMENT to facilitate bodywork fitting and integration.
MODULAR CHASSIS STRUCTURE for faster body mounting.
A SITE DEDICATED TO BODY BUILDERS
Visit our website dedicated to body builders. It provides all the information needed for your vehicle's body fitting (vehicle structure, bodymounting plans and instructions) via http://bbportal.renault-trucks.com
1 -

  Up to 1,820 mm
2 - 1,580 mm

3 -

1,380 mm

4 -

 5 ideal loading heights from 542 mm  
TO LOAD UP TO 5 EUROPALETTES made possible by a large surface area on the single mount version.
BODIED VERSION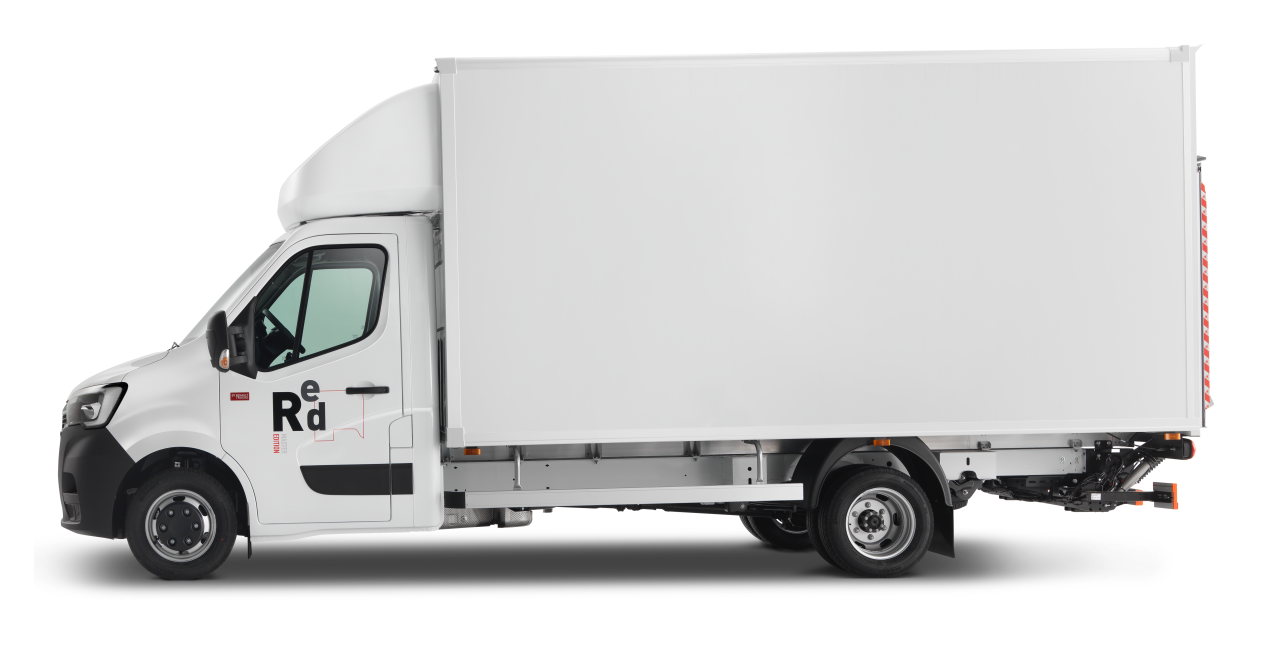 BOX BODIED VERSION
 20 or 22 m3 with tail lift, deflector or Luton body.
TIPPER VERSION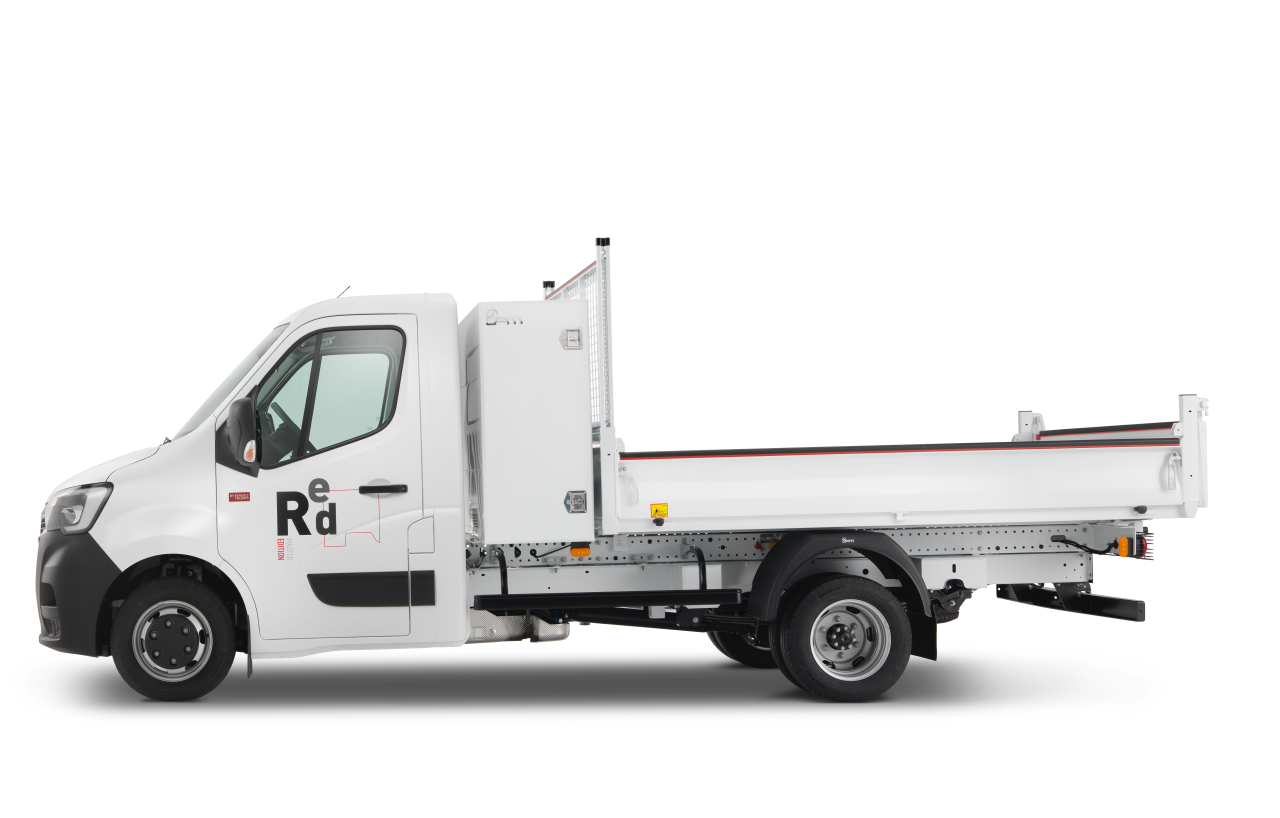 TIPPER VERSION (mixed or steel) with or without cab toolbox.
ALWAYS READY TO WORK
ROBUST AND RELIABLE UNDER ALL CONDITIONS
1 Up to 1,850 kg load capacity on the front axle (3.5 t to 4.5 t)
2 Steel protection sump guard under the engine
3 Load capacity on the rear axle of up to 3,200 kg (4.5 t twin wheel version)
4 Side member reinforcements on the chassis for added strength and durability
GTW UP TO 7.5 T
PERFECTLY AT HOME ON ALL SURFACES
1 Twin tyres on 3.5 t to 4.5 t models deliver better traction on difficult surfaces
2 All weather tyres*
3 Steel protection under the engine*
AVAILABLE IN BOTH FRONT WHEEL DRIVE, REAR WHEEL DRIVE AND 4X4
* Optional
EXTENDED GRIP
Electronic management for operating on all types of surface (sand, snow, mud, etc.), available as standard on both front wheel and rear wheel drives.
FOUR-WHEEL DRIVE VERSION
BECAUSE A COMMERCIAL VEHICLE MUST FACILITATE YOUR WORK
EVERYTHING WITHIN YOUR REACH
1 -

Cruise control or speed limiter

2 -

Driver or driver and passenger airbags, plus optional lateral airbags

3 -

3.5" driver customisable screen

4 -

Medianav navigation with DAB digital radio, TMC traffic information, Android AutoTM and Apple
CarPlay smartphone replication

5 -

Consolidated and easy-access controls
6 - Air conditioning

7 -

Over 22 L of storage space on the dashboard, open or closed
CABS VERSIONS
SINGLE CAB VERSION
2 or 3 seats. Cabs available up to 7 seats.
RETRACTABLE TABLET SHELF
incorporated into the dashboard for A4 documents.
DOORS OPEN UP TO 270 °
WORKING COMFORT
1 -

Low chassis height from 741 mm to facilitate loading and unloading operations

2 -

Optimised cab access with a first step at a height of 430 mm
SAFETY FIRST!
Electonic Stability Control - ESC
fitted as standard to help drivers maintain trajectory and prevent the vehicle from overturning in critical situations.
Front and Rear Parking Sensors
emit an audible signal when an obstacle is detected. 
SIDE WIND ASSISTANCE
This system helps the driver stay in the lane when the wind is coming from the side.
BLIND SPOT ALERT
Warns the driver of blind spot dangers by a warning light in the mirrors.
LANE DEPARTURE WARNING
an audible signal warns the driver in the event of any involuntary deviation from the vehicle's trajectory.
TECHNICAL INFORMATION
 

FRONT WHEEL DRIVE

REAR WHEEL DRIVE - SINGLE TYRES

REAR WHEEL DRIVE - TWIN TYRES

USAGE

Payload and road passenger transport 

Heavy loads and towing and/or off-road

Benefits 

Loading threshold lowered by 13 mm 

Improved maneuverability. Reduced turning radius, greater GTW.

Engines 

Euro 6 d-temp (Light Duty) Euro VI d (Heavy Duty) 

Euro VI d (Heavy Duty)

Gearbox

Manual 6-speed or robotised 

6-speed manual

GVW / GTW 

3.3 t / 5.8 t 3.5 t / 6 t

3.5 t / 6 t 

3.5 t / 7 t 4.5 t / 7.5 t